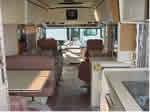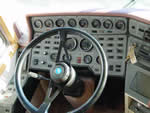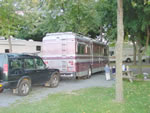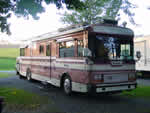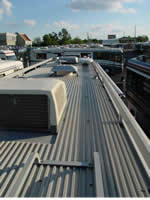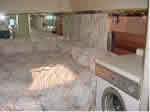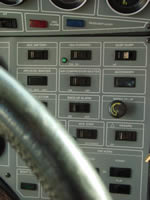 I am the second owner of this nonsmoking, well-maintained coach. It is the Silver Anniversary edition, that included many extras not found in other versions of this coach. This fully self-contained home on wheels is ready for anything from a weekend in the mountains to a full-time tour of the lower 48. While you're driving, your passengers can watch DirecTV or Dish Network on either of the two televisions, or perhaps a movie on DVD or VHS. Sound is provided by a Bose Lifestyle home theater system with surround sound and 6-CD changer. Don't waste time at the campsite doing laundry; with the 8.5Kw generator and washer/dryer combo unit, you can wash and dry your laundry while you're making your way to a new destination. The engine heats hot water that you can use for the laundry or yourself. There's even an ice maker that runs off of the generator or the 1500 Watt inverter and the bank of six 12 Volt house batteries.
The coach is designed to handle cold weather in style with four different heating systems running off the engine, propane, roof AC units and electricty. All holding tanks are heated as well, and the steel construction is well insulated with expanding foam.
The queen-sized bed has a premium mattress providing comfortable sleep anywhere. The bathroom features a porcelain toilet and a shower/tub unit that you can actually use for more than a quick wash off with its rapid-recovery 10 gallon marine hot water heater and generous head room. The walls of the bathroom swing away, providing private access to a generous space and doubling your floor space. In a Blue Bird, you're never cramped.
The kitchen features a dual burner stove and a convection microwave that will run off of the generator or the inverter. Pop popcorn at a rest stop or roast a turkey at the campsite. Dual sinks provide for an easy clean up. The large 3-way refrigerator and freezer can be supplemented with an another freezer that has already been pre-wired in the basement storage.
Speaking of storage, this unit has it to spare. There are magazine racks, tissue holders and drawers right where you need them and even a china rack for items you'd like to display. Under the coach, there is a pass-through bay and several spacious compartments all protected by solid steel doors and locks. One bay has a full-size roll out tool box. For very large items, the roof is completely enclosed with a rack, and can handle the weight. Feel free to walk around or even watch the sunset from your perch in the sky.
The 300 HP Turbo Cat 3208 engine provides enough power not only for the coach, but for a 10,000 pound trailer or car. Included is a class-4 tow bar if you choose to bring your car or truck with you. The 8-way power seats, tilt steering, power heated mirrors, 4-speed push button automatic transmission, remote spotlights, rear camera and multitude of gauges and convenience items make driving this coach a unique experience.
Outside the coach, you'll find awnings on every window, a sturdy ladder, and access to all maintenance areas. The radiator is designed to swing out of the way for major engine access. The generator slides out of the front for servicing, and there are foot holds so you can clean the windshield easily.
I could go on, but instead, I invite you to contact me with any questions you might have. I can take pictures of whatever you'd like and e-mail them to you, or arrange for a test drive. I look forward to hearing from you at jeff@wagg.com.
If you prefer to call, please e-mail me for arrangements. Coach is located near Dulles Airport, which is 25 miles west of Washington, DC.
Keywords: Bluebird Blue Bird Wanderlodge Wonderlodge Wander Lodge Wonder Motorhome Coach Bus RV Motor Home sp 36 sp36
1989 Blue Bird Wanderlodge
GVWR: 36,000 lbs.
Mileage: 122,000
Length: 36 feet
Model: SP-36 (Single Axle Pusher, 36' long)
Silver Anniversary Edition
Pusher 300 HP Cat 3208 Turbo Diesel Engine
Onan 8.0Kw Diesel Generator
1500W Pacs Inverter
4-Speed ZF Transmission with retarder
Four coach batteries
Two Engine Batteries
Full Air Brakes
Solid steel frame and chasis, (meets school bus safely requirements)
CAPACITIES:
Fuel: 200 Gallons
Fresh Water: 100 Gallons
Gray Water: 100 Gallons
Black Water: 90 Gallons
Hot Water: 10.5 Gallons
Propane: 45 Pounds

SEATING:
Two 6-way electric captains chairs
Three-person sleeper sofa
Two 2 person dinette benches
Space for another detached rocker or recliner (or bird cage, filing cabinet, whatever you need).
COLORS:
Outside is custom Imron color mix of silver and burgundy
Inside is Navy blue and mauve. New flooring throughout!
ENTERTAINMENT:
DVD
VHSx2
In-motion satellite plus stationary dish
Bose Home Theater Lifestyle system with advanced UHF remote and 6-CD changer.
5 speakers plus Acoustamass Sub-woofer.

DRIVING:
Dual remote heated mirrors
Retracting fog lights
Dual remote spot/flood lights
Full docking lights
Remote rearview camera with defrost
Dozens and dozens of gauges including engine and generator functions, trip computer, altimeter, power conditions, and much more.
Telescoping tilt steering.
Air horns and musical horn